The Ultimate Guide to Real Estate Technology for Residential Brokers
Real Estate Software
•
May 03, 2021
Real estate used to be a low-tech industry.
However, that's changed.
According to Forbes, "technology is quickly emerging and shaping the future of real estate."
In the last decade, technology adoption has skyrocketed. Brokerages that have adopted the right tech have seen efficiency gains, reduced costs, and increased profits. However, those who have lagged in tech adoption are now falling behind their tech-enabled competitors.
While adopting technology is now crucial to success in real estate, it can be hard to know what tech is right for you. That's why we've put together this guide. In it, you'll find everything you need to know about real estate technology. And, how to adopt the right tech to stay ahead of the competition.
Here's your ultimate guide to real estate technology:
Table of Contents
---
What Is Real Estate Technology?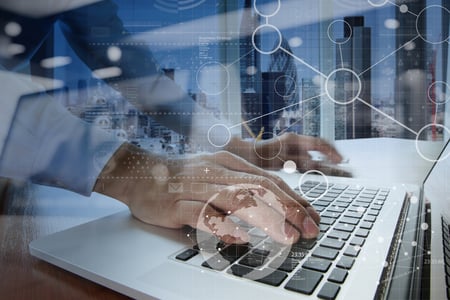 No doubt you already use some real estate technology – also known as property technology, PropTech, RETech, and CRETech. Real estate technology is any tech that makes all aspects of the real estate business easier and more efficient.
You probably already use some form of real estate tech in your day-to-day work. If you use a CRM, transaction management software, virtual showing technology, eSignatures, and more, you're using real estate technology.
And, real estate tech isn't just for brokers and agents. Platforms like Zillow and Redfin are examples of customer-focused PropTech. New solutions pop up every day that make it easier for customers to look at homes, secure a mortgage, find a contractor, put in an offer, and more.
While many of these solutions might seem like recent developments, real estate technology has been around since the 1980s. Early examples of real estate tech include CoStar and even Excel.
However, in the last decade, PropTech has taken off. Before 2013, there was less than $100 million invested in real estate technology each year. In 2015, that number jumped to over $2 billion invested annually. By 2019, that number had climbed to nearly $9 billion yearly investment.
Investment in RETech has increased exponentially.
But, what does that mean for you?
Increased investment and deal volume mean you now have more real estate tech options to choose from than ever before. So, if you have a need, there's likely a tech solution that can solve it.
However, not all real estate tech is a good choice. Some are dinosaurs with outdated software and are no longer innovating. Others are popping up today and are gone tomorrow. In contrast, some are hitting their stride and growing while adding additional functionality.
And, another problem is that some are solutions to single issues. So, you have to string together a bunch of tech to get everything done. Others consolidate functions into a single system and integrate with others.
Not to worry, though. This guide will walk you through everything you need to know to choose the right tech.
---
How Can Real Estate Tech Help My Business?
Real estate is one of the last industries to become digitized. But, in the last few years, more and more brokers have started adopting solutions that consolidate and automate. And, top brokers are using fewer tools that do more work.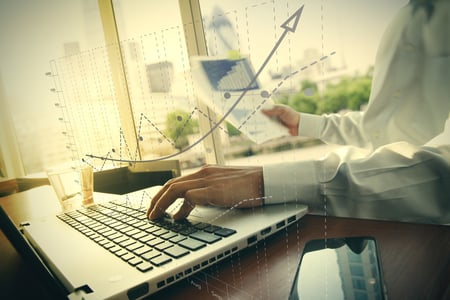 So, you might be wondering if now is the right time to adopt real estate tech. And, what key benefits real estate technology can offer your brokerage to help you thrive.
And, according to HousingWire "[brokerages] that resist change will find themselves falling further behind." So, it's not only is now a great time to adopt the right real estate tech – it's essential. Here are some of the ways real estate tech can help your business.
Increase Efficiency
For one, PropTech increases efficiency and scalability. This allows you to get more done with the same staff/agents. If you want to close more deals, you traditionally have to hire more agents or staff. This increases your overhead – taking a chunk out of your growing profit.
However, with real estate tech, you can use tools like CRM or back-office software that enable your agents to get things done faster. And, tech can help your team be more accurate and reduce time spent on manual data entry. That way, they can close more deals – helping you reach your goals.
With real estate tech, you can scale your brokerage by increasing efficiency.
Attract and Retain Top Agents
Another reason you need real estate tech is to attract and retain top talent. The best agents have their pick of brokerages. As such, the tools and perks your brokerage offer need to be top-notch to grab their attention.
If you're competing with another brokerage over a top producer, and your compensation packages are about the same, the difference could be the tech you offer.
For example, your brokerage might make agents manage contacts, transactions, commissions, and more on a spreadsheet. Your competition could have the latest tech to make these manual processes quick and easy. It's a no-brainer which brokerage to choose for a top agent. So, if you want the best agents, you need to provide them with the best tools, like real estate tech.
Surpass Your Competition
Along with attracting top agents, real estate technology can help you beat your competition. PropTech can not only make your team more efficient. It can also help you provide an outstanding customer experience.
With the right real estate tech, you can respond instantly to prospects and clients. You can also create a smooth experience that makes home buying and selling a breeze. Meanwhile, your competition is using outdated processes and tools. So, clients find home buying and selling to be archaic and challenging.
When faced with those two options, customers will choose you every time. And, refer everyone they know to you. With the right real estate tech, you can outperform your competition to become the top brokerage.
As real estate becomes more digitized, real estate technology is no longer a luxury. Instead, it's an essential part of being a successful brokerage.
---
What PropTech Do I Need?
You know it's time to adopt real estate tech.
But, where do you start? What tech do you actually need?
Your PropTech needs will differ depending on whether you're an enterprise-level brokerage or a small/medium brokerage. Here are the tech solutions you need to get started with depending on your size:
Enterprise Brokerage
As an enterprise brokerage, you need technology that will work for your large brokerage. You should look for 3 key types of enterprise real estate technology:
Front Office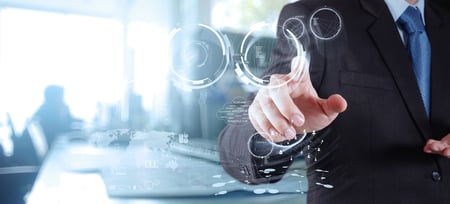 Front office technology will help you with customer-facing activities, like marketing or communicating with prospects and clients. A CRM is an example of front office technology. With a centralized database for client/prospect info, it's easy for you and your team to connect with prospects, follow up, and close deals.
And, you should have front office tech that helps you serve clients better, such as virtual showing or market analysis tech. Front office tech can also include marketing technology. From email marketing, to fliers, to digital advertising, technology can help you promote your brokerage and get more deals.
Back Office
Along with front office tech, you also need enterprise back office technology. Whereas front office tech helps you interact with clients/prospects better, back office tech helps you run your real estate business better.
From general administrative work to accounting to even transaction management, back office technology can help you streamline your workflow. This can eliminate busy work and free your staff/agents up to work on other projects.
You could get a separate software for every back office need (like one for accounting, another for onboarding, and another for transaction management.) However, the cheaper and more efficient option is a complete back office solution that does everything you need in one platform.
Transaction Management
The last type of enterprise technology you need is transaction management tech. Your transactions can get complicated. As such, it can take your staff hours for each transaction. To save time and improve accuracy, you should use tech to manage your transactions.
Ideally, you would have a back office solution that includes transaction management. However, if yours doesn't, it's important to find another tech solution to manage your transactions.
Small-Medium Brokerage
As a small to medium brokerage, you'll need much of the same tech as enterprise brokerages. However, you'll need solutions that work for smaller brokerages. Here are the 3 types of small-medium brokerage real estate tech you need.
Top of the Funnel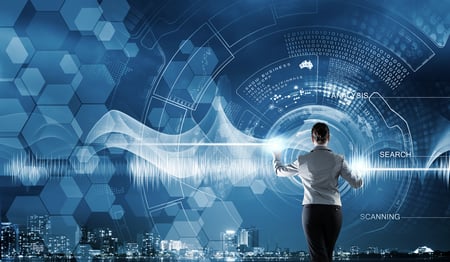 The first type of real estate tech you'll need for your small/medium brokerage is top-of-funnel tech. This technology focuses on engaging with prospects. And, getting them to contact your brokerage to learn more.
Top-of-funnel technology includes agent websites, digital marketing, lead generation, lead intelligence, and more. While you don't need every type of top-of-funnel technology, it is important to have some type of tech to help with marketing and lead generation.
Middle of the Funnel
Along with top-of-funnel tech, you also need tech that helps you communicate with prospects. And, convert them to clients. Middle of the funnel real estate technology can help you increase your conversion rate and have a full deal pipeline.
CRM is one crucial middle of the funnel tech. It will help you organize your prospect and client info. And, help you follow up at the right time. Other middle of the funnel tech includes email marketing, communication platforms, and AI assistants (among others).
Bottom of the Funnel
The last type of tech you need for your small to medium brokerage is bottom of the funnel technology. This tech focuses on ensuring the real estate transaction goes smoothly for you and your clients.
Bottom of the funnel tech is equivalent to enterprise back office technology. So, you need one solution to help with administration, onboarding, accounting, transaction management, and more. Choosing a complete back office solution will help you keep costs low and get the most out of your tech.
---
What Should I Look for in Real Estate Technology?
You now know what types of PropTech you need. So, it's time to pick a product in each category. Here are the most important features to look for in your real estate tech solution:
Easy to Use and Access
Being easy to use and access is the first essential feature of any real estate tech you choose. Learning how to use new technology can be complicated, frustrating, and time-consuming. So much so that you wonder if the tech is even worth the supposed benefits.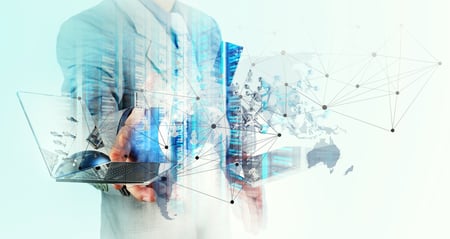 However, it doesn't have to be that way. You just need to look for solutions with a simple and easy-to-learn interface. And, solutions that have good support if you do have issues using it. That way, you can start to see benefits from your tech on day one – without the frustration of hard-to-use tech.
Plus, you should look for tech that you can access from anywhere. Instead of being tied to your desk. Tech that's cloud based and has mobile functionality allow you and your team to access what you need on the go. That way, you can get the benefits of your tech from anywhere.
Integration
Another important feature your real estate tech should have is integration. You'll likely have more than one tech solution – like a CRM and back-office tech. But, without integration, you can't share data between your solutions. So, you have to manually enter data into every solution. This increases the risk of costly mistakes. And, decreases efficiency.
So, you need to make sure your tech integrates with other pieces of your tech stack. You can usually find integration info on the solution's website. If not, you can always email or call the company to see if they integrate with your other tech. And, if you're unsure of specific solutions the tech needs to integrate with, you should choose tech that integrates with a lot of other tech.
Consolidation
Along with being easy to use and integration, you should also look for consolidated tech. With so many tech options, it's easy to end up with a large tech stack. However, having to navigate a bunch of more solutions erases many of the benefits – like increased efficiency, attracting top agents, and serving clients better.
So, you should choose tech that fills multiple needs, when possible. For example, instead of choosing a transaction management software, you should choose a complete back-office solution. This back-office tech can do transaction management, commission calculation, accounting, agent onboarding, and more.
That way, you only have to learn one platform, instead of multiple. And, you don't have to enter data in multiple places – increasing efficiency and accuracy.
Automation
The last tech must-have is automation. Real estate tech should make your life easier. And, it should increase how much you can do with the same team. But, real estate tech that makes you manually input all data can't do any of those things.
That's why you should look for real estate technology that automates manual processes. For example, a back-office solution with accounting should be able to move data to and from any other accounting software you use (like QuickBooks). So, you don't have to enter data in both your back-office solution and other accounting software. As such, automation reduces errors and improves efficiency.
---
The Bottom Line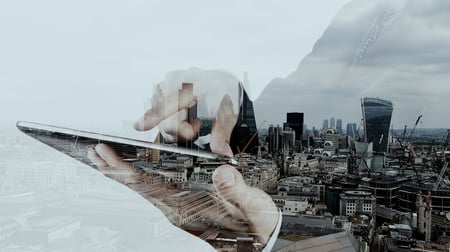 Although real estate has long resisted digitization, real estate tech is now essential to success in the industry. And, that's unlikely to change any time soon. In fact, it's only becoming more important to use the right real estate technology to beat out the competition.
So, you need to make sure you have the right tech stack. If you're an enterprise brokerage, you should look for front office, back office, and transaction management tech. For small to medium brokerages, you should look for top, middle, and bottom of the funnel tech.
If you have tech that has all that, you're set to thrive in the new digital era of real estate.
If you're looking for an easy to use, complete back-office solution, you should consider Brokermint. With 5 modules, Brokermint's cloud-based platform provides everything you need to manage your back office smarter – all on one platform.
Get started with your free demo today.
Subscribe
to get posts and other updates