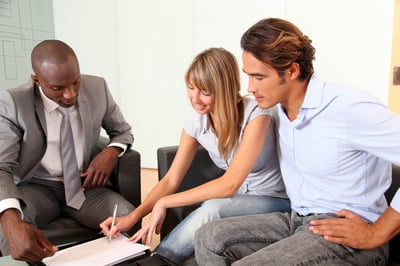 Looking for the best CRM? You're in the right place.
Customer relationship management (CRM) software helps you organize your prospects and client info. With everything stored in a central database, it's easier for you to follow up at the right time and convert more leads into clients. Plus, some CRMs can help you with your marketing to attract new leads.
However, the seemingly endless choices of real estate CRMs can be difficult to navigate. There are so many features, options, tools, plans, and more. With so many choices, how do you know if you're choosing the best one for your business?
The first step is knowing what you need out of a CRM. In this post, we'll cover some of the basic functions you need. Then, you should look at individual CRMs to pick the right one for you. We've rounded up the 6 best real estate CRMs to help you narrow down your choices.
Want to learn which CRM is right for you? Read on to find out.
What Do You Need In a CRM?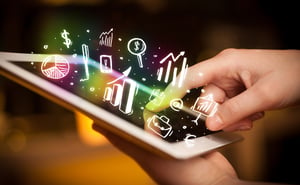 CRMs can do everything from storing prospect data to helping you find more leads to creating marketing campaigns and more. However, there are a few basic tasks that are must-haves for any real estate CRM. Other features are optional and depend on your specific needs.
An essential CRM feature is a database to store prospect and client info. It can be hard to have an efficient system when you have prospect info in a variety of spreadsheets, notebooks, or even random post-its. So, you need one place to store everything. That way, it's easy to find the information you need to keep your deal pipeline full.
Another CRM must-have is automation. Manual tasks like email follow up can be time-consuming and hard to keep up with. CRM automation can take care of these tasks for you. So, all your manual tasks get done – while you have more time to prospect and work with clients.
One last essential feature your CRM should have is integration. Having a closed CRM means you'll have to manually move data between systems – like your back-office solution. An integrated CRM can automatically move your data into other systems for you. This reduces data entry errors – and gives you more time to focus on your pipeline.
Best CRMs for Real Estate
Here are the top 6 best CRMs for real estate (in alphabetical order):
Started in 2006, BoomTown is a lead nurturing focused CRM that works great with pay per click (PPC) leads. With BoomTown, you can create an IDX website, targeted lists, automate follow up, see which leads are the highest probability, and more. All of which make BoomTown's lead nurturing process very effective – if you regularly put the work into it.
BoomTown also offers support for paid ads – like Google or Facebook ads. And, BoomTown can do digital marketing (like creating search, mobile, and display ads) for you. So, you get effective paid marketing – while having more time to spend on prospects and clients.
Along with lead generation and paid ad capabilities, BoomTown also has apps for you and your customers. Plus, they have team features and people to respond quickly to prospects.
If you're looking for a CRM that focuses on lead nurturing and paid lead gathering, BoomTown could be a good fit.
Founded in 2016, Chime is a CRM loaded with automation features – including an AI assistant. Chime's AI assistant can communicate with new leads, disqualify undesirable leads, and more. The AI assistant can save you time. And, with almost instant responses to prospects, Chime's AI can help you convert more leads.

And, with Chime, you can automate most of the lead nurturing process with automatic property alerts, bulk texting, and email automation. Plus, Chime can automatically generate reports for you on topics like business goals, performance, and lead analysis.

Other features include a power dialer, mobile app, teamwork capabilities, and transaction automation. In addition to the CRM, Chime also provides IDX website and marketing products.
If you're looking for a CRM focused on automation, Chime could be a good choice.
Created in 2011, Commissions Inc (CINC) is a team focused CRM. With CINC, you can manage which leads go to each agent with auto-routing. This auto lead assignment has the ability to cap the number of leads, weigh lead quality, and follow the rules you set. This can make it easier to manage leads – while saving you time.
Another team feature CINC has is subdomains. So, everyone on the team can have a unique website. And, CINC has team tracking, so you can see how everyone on your team is doing. That way, you can keep your team as productive as possible.
CINC also has IDX websites, mobile apps, and easy to use pipeline management tools. And, you can create marketing campaigns and automate follow up with CINC.
If you want a team focused CRM, CINC could be the right option for you.
Created in 2011, Follow Up Boss prioritizes integration and simplicity. Unlike other CRMs that require you to use their IDX website, ads, leads, and more, Follow Up Boss has an open API and integrates with over 30 other providers. So, you can likely continue to use your other software if you choose Follow Up Boss.
And, Follow Up Boss focuses on being a CRM – and doing it well. They don't offer any products other than CRM. Instead of constantly releasing new features, Follow Up Boss perfects existing features and streamlines the user experience. So, Follow Up Boss is easy to use and uncluttered.
Follow Up Boss has traditional CRM features like call and text tracking, email automation, and team features. And, it has marketing and report capabilities. Plus, Follow Up Boss integrates with over 200 different lead providers – so you have a lot of options for finding the right leads.
If you want a CRM that's streamlined and has great integration, Follow Up Boss could be the right choice.
kvCORE is a modern, all in one CRM by Inside Real Estate, which was founded in 2008. kvCORE is a complete platform to assist with all of your business needs. They have solutions for leads, websites, CRM, listings, transactions, marketing automation, business analytics, and an ad marketplace.
The CRM focuses on being just as valuable as an employee. It does this by doing things like lead scoring, categorizing leads and follow up, and managing tasks. kvCORE also automates lead distribution and follow up.
So, with kvCORE, you can focus less on administrative tasks and more on converting prospects and delighting clients.
If you want an all in one CRM to handle nearly everything, kvCORE could be a great choice for you.
Founded in 2014, LionDesk is an easy to use and feature-packed CRM. LionDesk can be set up in under an hour. And, it's easy to use even if you aren't tech-savvy. So, if you aren't big into tech, LionDesk will be extra friendly.
LionDesk is also packed with features – like AI lead follow up, drip campaigns, and task management. Plus, LionDesk regularly adds new features, such as video email and text. So, you'll be able to find almost everything you need in LionDesk. And, if it doesn't have a feature you want, there's a good chance it could have it in the future.
Along with those features, LionDesk also has support for Facebook ads, power dialing, and a chatbot.
If you want an easy to use CRM with lots of features, LionDesk could be for you.
Wrapping It Up
The right CRM can help you run your business more efficiently, reduce your administrative workload, and help you keep your deal pipeline full. But, there are so many CRM options – which makes choosing the right one difficult.
To make finding a great CRM easier, the top 6 best CRMs are – Boomtown, Chime, CINC, Follow Up Boss, kvCORE, and LionDesk. Between these 6 CRMs, you should be able to find the right one for you.
Along with using technology in customer-focused activities, you likely also need back-office software – which cuts costs, minimizes manual data entry errors, increases efficiency, and more.
Brokermint® is a back-office software option that integrates with these top 6 CRMs, meaning the data can flow straight from the CRM into Brokermint.
Brokermint is an easy-to-use, complete cloud-based solution for the residential real estate back office. With Brokermint, you can manage your transactions, automate commissions, do accounting, manage agents, and analyze and report data.
Learn more about how Brokermint can work with your CRM and help you manage your back office today.