How Native American Group Saves 312 Hours from Dash Integration Alone
Real Estate Back Office
•
Jan 25, 2021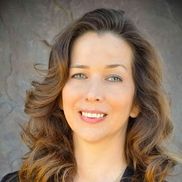 Dr. Susan Jenkins
Chief Executive Officer-Principal Broker
Better Homes and Gardens Real Estate Native American Group
Susan and Barry Jenkins founded Native American Group nearly 20 years ago. Today, the Better Homes and Gardens Real Estate franchise has grown to 67 agents, 4 office locations, and 950 transactions last year. Susan and her office staff have their hands full managing so many agents, transactions, commissions, compliance, and more.
Tired of unwieldy paper methods that were time-consuming to maintain and costly to store, Native American Group turned to back office technology to streamline the process. When looking for back office software, they wanted a solution that was easy to learn and use. And, they wanted something cloud-based that integrated with QuickBooks.
It reduces labor cost, duplication, and data error. It gives confidence that I have one complete system rather than patchwork. —Susan Jenkins
Clunky Beginnings
However, Native American Group's first experience with back office technology left much to be desired. They initially chose LoneWolf. But, Susan found that it "was very clunky and difficult to access. It was visually archaic, and it was cumbersome. It wasn't agile, flexible, or user friendly." And, LoneWolf didn't integrate with QuickBooks or help with compliance. This made more work for Susan and her team – the opposite of what she wanted from back office tech.

Then, Native American Group tried Dotloop. While Dotloop was less clunky than LoneWolf, it still didn't integrate with QuickBooks. And, Susan couldn't create a checklist for agents to upload documents. So, she and her team still had to track down agents to make sure they were compliant – which sucked up hours of their time. Worrying about agent compliance also made it difficult for Susan to have peace of mind.
Checking All the Boxes
Dissatisfied with Dotloop, Native American Group again searched for a back-office solution that met all the requirements. While they considered SkySlope, Native American Group ultimately decided on Brokermint. Because it has QuickBooks integration and simple commission calculation, choosing Brokermint over SkySlope was a no brainer.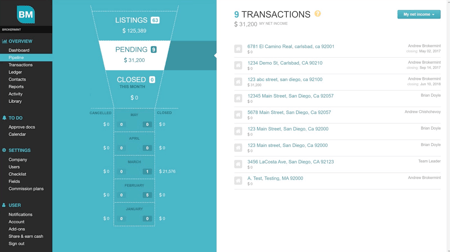 Native American Group was also impressed by how clean, simple, and easy to use Brokermint was – especially compared to LoneWolf.
Even the transition was easy. "It was actually a really quick integration and transition from Dotloop," Susan remembers, "the Brokermint team was able to download everything from Dotloop for me. I had about 4 years' worth of records in Dotloop. So, transferring these records was a huge time savings and improved compliance."
Along with being easy to use, Brokermint has another one of Native American Group's must-haves – a cloud-based platform. So, Susan and her team can access Brokermint from anywhere from any device. Instead of dealing with frustrating and hard-to-use computer only software.
Anytime we reduce paperwork and additional admin work away from our salespeople, we can let them focus on their highest and best use – which is servicing clients.—Susan Jenkins
And, unlike other solutions, Brokermint is a complete back office platform. The average brokerage has 12 tech solutions. With Brokermint, Native American Group can consolidate their tech stack to a fraction of that. The Brokermint platform can manage transactions, compliance, onboarding, and more from one place.
Plus, Native American Group no longer has to manually input everything, which reduces the risk of costly compliance or accounting errors. And, it saves time in areas like accounting. Brokerages typically spend 15 minutes to record each deal in QuickBooks. With Brokermint, Native American Group can do it in seconds.
Saving Time with Dash Integration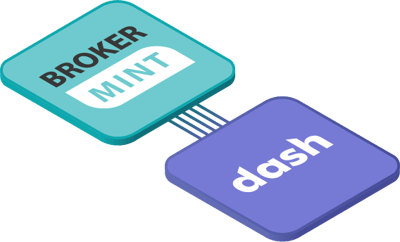 Recently, Native American Group started using Brokermint's Dash integration. As a Better Homes and Gardens franchise, they have to send a monthly report on personnel, transaction, and listing data through Dash. This used to involve hours of manual work – which was expensive and took her staff away from other important tasks.
Now, Brokermint automatically reports everything for her. Susan says the Dash integration "is powerful. It reduces labor cost, duplication, and data error. It gives confidence that I have one complete system rather than patchwork. I have a singular system that completes multiple functions for my firm, which aids in preventing compliance issues, tracking accountability, and reducing costs."
Susan estimates that Brokermint's Dash integration saves her staff 6 hours a week. This is a yearly savings of roughly $6,240 – from only one of Brokermint's many features. Instead of having to create the buy-side, finish off the list-side, and do royalty payments (among other tasks), Native American Group can now focus on important projects that help the firm generate more income.
Reducing Admin Work
Another benefit Native American Group has seen using Brokermint is a reduction in work for agents. Implementing the right technology can increase efficiency by 2x. Brokermint does this by automating tedious tasks that agents used to spend so much time on – like completing compliance documents and sorting through paper files.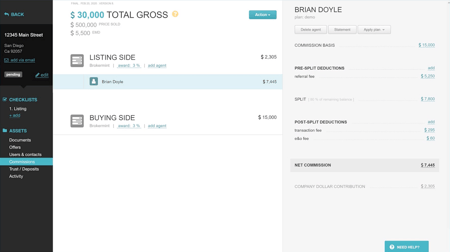 "Anytime we reduce paperwork and additional admin work away from our salespeople, we can let them focus on their highest and best use – which is servicing clients." Brokermint's automation allows agents to focus on marketing, income generation, and more – helping Native American Group provide great customer service and close more transactions.
Peace of Mind
Having used Brokermint for 5 years, Native American Group continues to use and love Brokermint for reasons including being easy to use, consolidating their tech stack, improving team efficiency, and continually releasing new features – like Dash integration.
Another reason Susan has stayed with Brokermint is that it gives her peace of mind. She no longer has to worry about accounting errors, data entry mistakes, non-compliant agents, and many other problems. Brokermint automates and consolidates all the traditional points of failure – like switching data between systems – removing issues Susan used to have to worry about.
So, Native American Group doesn't look at Brokermint as an expense. They look at it "as an investment to streamline, increase productivity, and tighten compliance and accountability. Because of this, it's absolutely worth the investment and the cost."
---
Subscribe
to get posts and other updates