How Florida Life Managed 84 Transactions with No TCs
Real Estate Software
•
Oct 20, 2021
Tim and Sarah Caudill founded Florida Life Real Estate 5 years ago. This year, Florida Life Real Estate is on track to do $100 million in sales and over 300 transactions.
Florida Life Real Estate accomplishes this with seven buyer's agents and, until recently, two transaction coordinators. However, both of their transaction coordinators left on the same day – leaving Florida Life Real Estate in a bind.
I love Brokermint because we were able to function still, even after both transaction coordinators left. Our agents were easily able to pick up the slack with Brokermint. – Tim Caudill
Managing Transactions Without Coordinators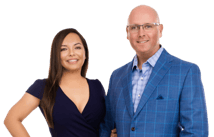 Sarah and Tim Caudill
At the time both transaction coordinators left, Florida Life Real Estate had 53 pending transactions, 13 closing transactions, and 18 listings. Tim, Sarah, and their agents had to find time to manage all their transactions while still running the business and working with clients.
Sarah managed the transactions initially, but the Caudills knew this wasn't sustainable. While they searched for new transaction coordinators, Tim needed his agents to manage their transactions – on top of their client work.
According to Tim, "Our agents were really spoiled because we had two transaction coordinators take care of all of their business for them. All they really had to do was go sell. So, when they found out all the items that were behind the scenes, they kind of freaked out a little bit," because they had to do even more work in addition to their already packed client schedules.
Luckily for the agents, Florida Life Real Estate had already been using Brokermint for about a year. So, Tim's agents didn't have to learn a whole new system. Instead, they had to learn how to manage transactions in an already familiar and user-friendly platform.
To make the transition easier, Tim and Sarah arranged training for their agents. Brokermint's top-notch support walked the agents through how to manage their transactions in Brokermint.
Tim was amazed when his previously worried agents told him at the end of training. According to Tim, the general response changed to: "You know what, we've got this. We'll pick up the slack. However long it takes to find new transaction coordinators, managing transactions will be a piece of cake thanks to the checklists created inside Brokermint."
Florida Life Real Estate did hire more transaction coordinators, but they were able to do business as usual in the interim thanks to Brokermint.
The Right Tools to Grow

And, Brokermint's ease of use for his agents isn't the only aspect Tim and Sarah love about Brokermint. They also appreciate Brokermint's tools that help scale the business. Although Tim likes working with clients, he doesn't enjoy the day-to-day business operations. But, staying on top of running his business is the best way to scale.
So, Tim looked for a way to spend less time running his business, while still growing the Florida Life Real Estate brokerage. He found the tools he needed in Brokermint's back office platform.
After spending time customizing Brokermint's platform to fit his business, Tim found that "Brokermint gave us checklists where we don't miss anything. The calendar is also incredible how it keeps you, your agents, and your operations staff on par with every transaction. And, Brokermint allows you to do that on a really, really, unbelievable scale."
Whereas other back office software can struggle to grow with brokerages, Tim appreciates how Brokermint helps brokerages of all sizes better manage and grow their businesses. As Florida Life Real Estate grows, the Caudills are confident that Brokermint will continue to meet all of their needs. So, they don't have to worry about switching tech (and getting agents to use new tech) as they scale.
Powerful Integration
Adding to Brokermint's functionality is even better integration with BoomTown. Florida Life Real Estate has used BoomTown for the past two years. Now that BoomTown acquired Brokermint, Florida Life Real Estate's back and front office can work seamlessly together. This reduces work for agents and admins, while increasing the time they spend on value-adding activities (like working with clients).
"With Brokermint and BoomTown collaborating together and BoomTown acquiring Brokermint, that's going to be huge for anybody looking to scale on any level moving forward," Tim noted.
Getting Even Better
Brokermint helped Florida Life Real Estate stay on track when the unexpected happened – two transaction coordinators quitting at the same time. Agents were initially worried about managing their transactions. But, after Brokermint's training, Florida Life Real Estate agents felt confident they could easily manage transactions in Brokermint.
And, Brokermint doesn't just help Florida Life Real Estate in crisis situations. Brokermint also helps them run and grow the business. This allows them to focus on high-value activities instead of mundane day-to-day tasks.
When asked if he had any advice for other teams, Tim said, "If there's one thing that I can tell everybody, if you're looking for a system to manage your transactions from start to finish, manage your employees for your onboard/offboarding, have checklists for all different aspects of your business model, Brokermint is a phenomenal tool for that. And, with the integration with BoomTown, it's going to get even better."
Subscribe
to get posts and other updates